UK University Application - the Personal Statement
Drafting a personal statement
The personal statement is a one-page document which outlines what you hope to do on the course, after the course and why you are applying to this particular university. Common personal statement errors can include:
The personal statement is too short/long
The personal statement does not include important information/includes negative information
The personal statement's structure is confusing
How long should my personal statement be?
Length varies depending on the university, but generally, the average length for an undergraduate application is between 4000 characters including spaces, around one side of the A4 paper. Certain postgraduate degree courses may require 1000 words, but this will be clearly specified. A standard personal statement will be structured as follows:
Your career aim
How you became interested in this field
What you have done to get closer to your aim
Why you are applying to this university
How you will use what you learn
Personal statement tips
Use a clear font such as Arial or Times New Roman
A maximum font size of 12
Maximum of five paragraphs
Include why you chose the university
No negative information
Don't duplicate material from your resume
How we can help
Once you have completed your personal statement, visit SI-UK North America for a free consultation.
We will take your personal statement and professionally edit it to ensure the English is clear and grammatically correct. Once this process is complete, we will return your personal statement within 1-3 working days!
Visit our Personal Statement Service page for more information on how SI-UK can help you.
Example personal statement
Please see below for an example of a personal statement to a Development Studies course.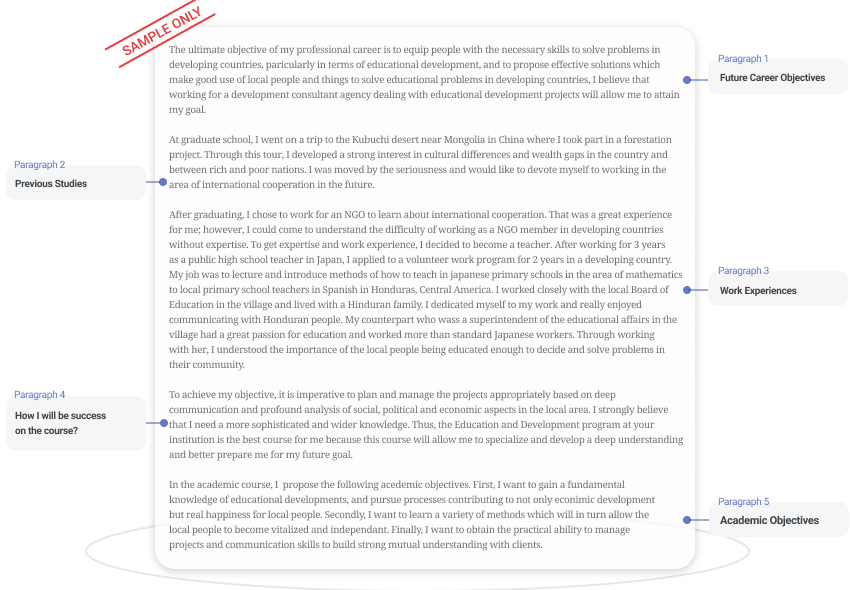 SI-UK works with an Editor to assist students who sign up for the Personal Statement Service. The Editor is based in Canada and has several years of experience assisting Canadian students with their personal statements.
Editor Profile
Taylor Zantingh is a Freelance Editor with SI-UK, she graduated from Sheridan College, Ontario in 2021 with a BA (Hons) degree in Creative Writing & Publishing. Taylor has 5 years of editing experience and 4 years of professional writing experience.

She has worked for Sheridan College, assisting students with their portfolios, personal statements, website content and project descriptions and also for a publishing house and university magazine. Taylor currently assists SI-UK students with editing Personal Statements, making sure that the statement best represents a student, and improving their chances of offers from UK universities.
Register for a free consultation if you would like to learn more.