Studying in Wales
Wales, one of the member nations of the United Kingdom, is located in the southwest of Britain, joined to England, and a short ferry or flight from the Republic of Ireland.
Cities in Wales include Cardiff, the Welsh capital, the Viking city of Swansea, and Newport, Bangor, St Davids and St Asaph. You may also be aware of towns like the famously long-named Aberystwyth or Wrexham, which both contain universities.
Well connected to the rest of the UK by transport and with eight universities, Wales is an excellent option for further education in the UK.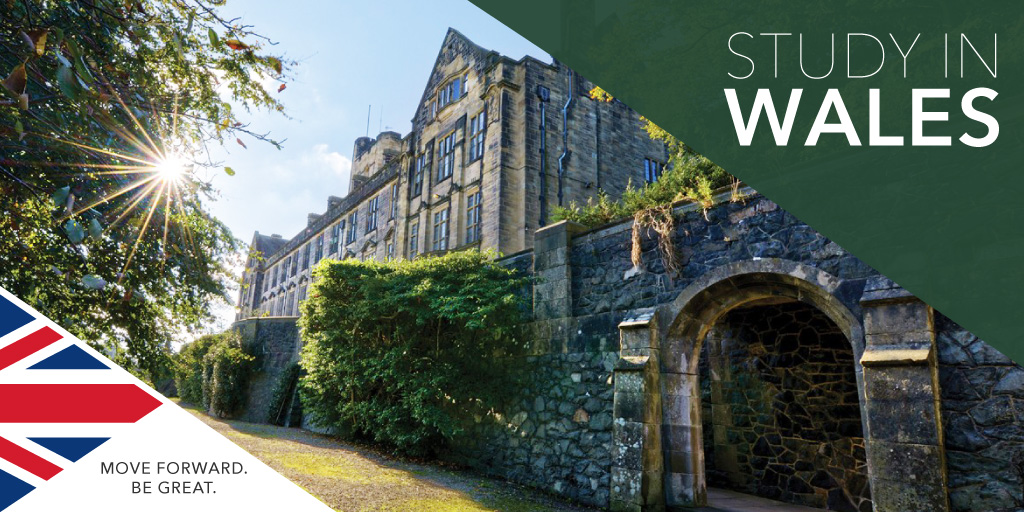 What is it like to study in Wales?
Universities in Wales deliver more than 5,600 courses to over 25,000 international students at its eight institutes of higher education. Between them, Welsh universities boast a significant number of 4* rated departments, the highest rating you can achieve, whilst 92% of graduates from Welsh universities found employment within six months of leaving university.
A large number of University campuses are based within walking distance of areas notable for their beauty, and many surveys have shown that students consistently enjoy a better quality of life in Wales than in other major cities across the UK.
Tuition Fees in Wales
International students at Welsh universities, like any other country in the UK, must pay tuition fees at both undergraduate and postgraduate levels. Tuition fees vary depending upon your chosen institution.
Undergraduate tuition fees range from £12,000 - £22,000/year* and Postgraduate tuition fees range from £12,500 - £29,000/year*.
*These annual fees are not fully reflective of all tuition fees in Wales with some course fees costing less than these figures and some costing more. Fees are often reflective of the institution with higher-ranking Welsh universities typically costing more. These fees also do not include Medical Schools which will have much higher tuition fees.
Scholarships and Funding at Welsh Universities
A variety of funding and scholarship options are available to international students who wish to study in Wales.
Visit our funding page to learn more about your options for university funding as a Canadian student in the UK.
Scholarships of between £1,000 and £5,000 are available across a range of courses at undergraduate and postgraduate levels, including business, computer science and engineering programs.
The Welsh government does offer a £10,000 scholarship for full-time Postgraduate degrees, speak to an SI-UK consultant to learn more.
Why should I consider studying in Wales?
The beauty of Wales
Wales might be a small nation in comparison to its larger neighbours in England, Scotland and Ireland but it more than compensates with breathtaking landscapes and coastal beauty. Welsh mountains, hills and rivers offer ample opportunity to escape the bustle of university life, whilst cities such as Cardiff mean big-city thrills are not far away. There are six UNESCO world heritage sites in Wales and three national parks make up almost 20% of the entire country.
Cost of Living in Wales
Wales also enjoys some of the lowest living costs in the UK, which means spending less on accommodation, travel and food. However, it is still vital that any potential student prepares their finances before they attend University. You can expect to pay around £6000/year on accommodation expenses in Wales, with varying rates depending on the location and whether you live in university or private accommodation.
Culture of Wales
You may be aware of the Welsh language, famous for its long words but did you know that it is spoken by almost a third of its population? There is no need to worry about communicating though as English is still the primary language spoken in Wales and you might even learn a few words of Welsh during your studies.
You will not need to travel out of Welsh valleys to experience arts and culture, with many cultural festivals running throughout the year across Wales including Europe's largest music and poetry festival.
For more information about why you should consider studying in Wales, visit our 5 Reasons Why You Should Study in Wales page. If you are interested in studying in Wales, arrange a free consultation at SI-UK North America today.
Universities in Wales