The island of Ireland, or the 'Emerald Isles' as it is sometimes known, is made up of the Republic of Ireland in the south and Northern Island, a member of the United Kingdom, in the north. Both countries attract tens of thousands of international students to their many universities and further academic institutions and we can certainly understand why.
From beautiful views to rich academic and cultural history, there is so much to love about both Northern and the Republic of Ireland and so many reasons why we think you should apply to universities in Ireland.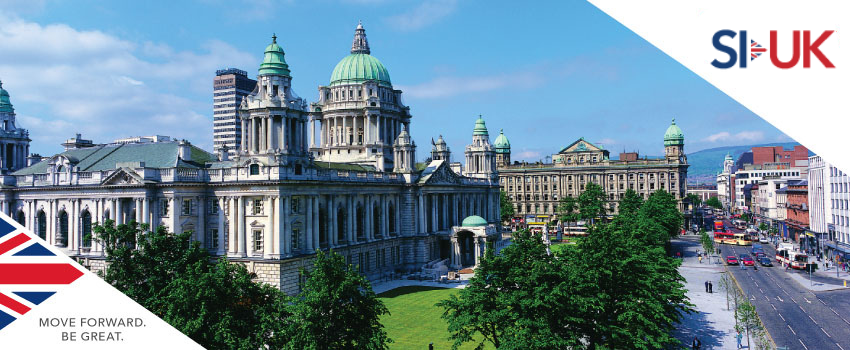 Here are just 5 reasons why you should consider studying in either country:
1. Ireland is affordable
As a university student your financial situation is always an important factor in where you study, "can I afford to study in the UK or Ireland?" is asked by many students and we can let you know that both Irish countries are affordable for students. Northern Ireland is consistently awarded as the most affordable UK country for students and the Republic of Ireland is in most instances, more affordable for student accommodation than the UK and many of the cities in North America.
International students from North America are always delighted to find that the cost of travel in Ireland is much cheaper than what they are used to in the US and Canada, and the cost of flying back across the Atlantic from Ireland is a little bit cheaper than from the UK (as well as it being a slightly shorter distance).
Many international students in the UK and Ireland take advantage of the low cost of flying to visit continental Europe for day and weekend trips, with many flights costing under $50.
Northern Ireland, like the rest of the UK, uses the pound as their currency but the Republic of Ireland uses the Euro, like many in continental Europe, so make sure you have the right currency for the country that you are studying in.
To learn about the cost of living and tuition fees you can expect in both Northern Ireland and the Republic of Ireland visit our Study in Ireland webpage.
2. The Culture of Ireland
There are 5 official cities in the Republic of Ireland and another 5 in Northern Ireland (the rest are towns or villages) and you will be welcomed by very friendly locals in each one.
Northern Ireland's main spoken language is English but it also has two recognized regional languages in Irish (also known as Gaelic) and Ulster Scots (an Irish local variety of the Scots language), and many students return home from Ireland knowing a word or two of either tongue.
In the Republic of Ireland, you have the opportunity to enjoy a pint of Guinness or a dram of Irish whiskey at a genuine Irish pub while listening to Irish folk music, watching river dance or perhaps taking in one of Ireland's many cultural festivals.
From food festivals like 'Taste Dublin' to arts festivals such as the Galway International Arts Festival, there is so much to see and experience in the Republic of Ireland.
3. The History of Ireland
In Northern Ireland, you should visit the Peacewall, a monument to Ireland's recent history, as well as many museums paying homage to both Northern Ireland's modern and ancient history.
In Belfast, the Titanic museum brings in hundreds of thousands of visitors every year (close to a million pre-pandemic) to learn more about the early 20th-century nautical disaster from the city that helped to build the ship.
The Republic of Ireland, much like the UK, has many landmarks and monuments dating back centuries, including castles and ancient burial sites. Carrowmore Megalithic Cemetery in particular is one to visit if you are interested in Ireland's ancient history as the series of tombs is one of the most important megalithic sites in Europe.
4. Stunning Sights of Ireland
Tourist hotspots like the Cliffs of Moher and film locations such as those in the Harry Potter and Star Wars are a big draw for students in the Republic of Ireland and the rolling plains offer an escape to the country at a moment's notice
If you have ever watched an episode of Game of Thrones then you have likely seen some of their wonderful Northern Ireland filming locations, including Winterfell, the Iron Islands and the Titanic Studio in Belfast was the main studio and post-production facility for all eight series of HBO's fantasy series. There are sightseeing tours that you can do in Northern Ireland to visit many of the filming locations and you might catch a glimpse of one of the many other film and television programs constantly filming in Northern Ireland.
5. Ireland's Academic Excellence
Both Northern Ireland and the Republic of Ireland have a rich history of academic excellence with several universities dating back over a hundred years.
Queen's University Belfast in Northern Ireland is a member of the prestigious Russell Group (the UK equivalent of the Ivy League) and is ranked in the top 100 world universities. Several of the universities in the Republic of Ireland are in the top 250 world university rankings with many Canadians choosing to go to the University of Galway (formerly NUI Galway) or University College Dublin.
Both countries' academic institutions are very well connected with leading industries with companies such as Microsoft, Apple and IBM all with offices in Ireland.
To learn more about your university options visit our Study in Ireland page.