Did you know that Scotland has more world-class universities per head of population than anywhere else in the world? Did you know that Scottish university graduates have the highest rates of employment or further study in the UK? Or that Scotland has the highest rate of student satisfaction in the quality of teaching in the whole of Britain?
Scotland is a stunning place to study, and not just for the educational benefits. Learn more about why you should consider Scotland as your home as an international student below.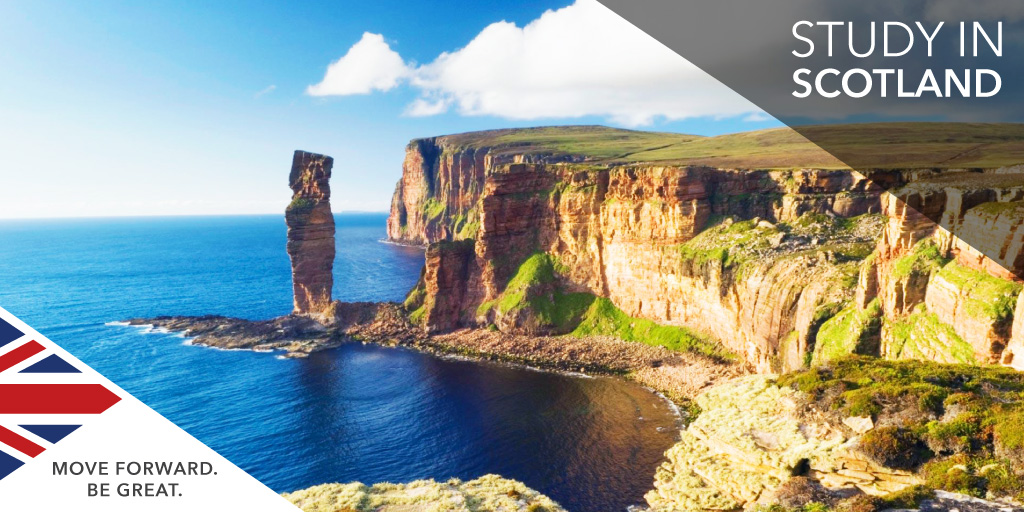 Why study in Scotland
1. Activities in Scotland
Thanks to Scotland's exciting landscapes of mountains and rivers, there are many different activities to fill your weekends away from studying. Go rafting or surfing on the lakes or coast, or take a bike and tackle Scotland's beautiful hills and mountains. Did you know that Scotland is the only place to ski and snowboard naturally in the UK?
Many students take advantage of the ease of travel in Scotland as it takes less than 6 hours to drive from the Scottish border to the very top of Scotland and can range from 1.5 to 3 hours to drive from the east coast to the west coast. Students often explore the many regions of Scotland on day and weekend trips over the course of their studies, enjoying hiking trails, Scottish cultural heritage spots and searching for Nessie at Loch Ness.
If you are in Scotland over the Summer then you will be able to enjoy the Edinburgh Fringe Festival, the world's largest arts and comedy festival, held every year over the month of August. The Fringe festival attracts millions to Scotland every year and is a great opportunity to check out free shows for up-and-coming comedians or grab tickets to some big names in the comedy scene. During the festival, the city is packed with people performing on the street and many food stalls are set up across the city, it is a true UK cultural highlight.
2. Scottish History
Scotland has a rich cultural history spanning nearly 1,000 years. Living in Scotland means seeing firsthand the many historical battlegrounds, castles and monuments the country has to offer.
Students frequently visit Edinburgh Castle, atop the hill in Scotland's capital city, to appreciate the stunning piece of historical architecture and for those interested in history, trips to the site of the Battle of Bannockburn, a medieval battle between England and Scotland, is a must-see.
Speaking of castles, did you know that there are over 1,500 of them in Scotland? You can't throw a stone without hitting some piece of historical architecture with medieval monuments spread out across the country and some even located on islands, within lakes, only accessible by boat.
Edinburgh as a city is an interesting mix of old and new, with both a modern shopping district and also a section of the city which dates back hundreds of years. The city itself is almost 900 years old and in the catacombs of the city, you can experience that older side of Edinburgh.
3. Galleries and Museums of Scotland
Over 100 galleries and 250 museums help paint a picture for visitors about the history and culture of Scotland. From independently run studios to big-city museums, a wealth of knowledge is to be gained from Scottish art, culture and science.
The National Museum of Scotland in Edinburgh and Kelvingrove Art Gallery in Glasgow are two such galleries and museums that we would recommend visiting and for those interested in a historical museum the Wallace Monument, footsteps from the University of Stirling, is a museum dedicated to Scottish Medieval history and in particular the battles of William Wallace.
4. Scottish Scenery
Scotland's coasts, islands and mountains are a sight to behold, and its distinct landscape will inspire. There is always somewhere new to explore, with national parks, canals and beaches making for an unforgettable experience.
The Scottish Highlands are famous across the globe and have been further popularized in popular culture with films and tv shows (such as Outlander, James Bond, and Harry Potter) taking place in the Scottish Highlands.
There are over 30,000 freshwater lakes or lochs, as they are known in Scotland, with some, such as the famous Loch Lomond, inspiring songs and poems about its bonnie banks. They range in size and depth and some, like Loch Leven, by Kinross, contain an island and castle where the medieval royalty Mary, Queen of Scots, cousin to Queen Elizabeth I was held captive and later escaped from.
Some of the best sites in Scotland are appreciated from up high and so we recommend taking a walk up Arthur's Seat, a hill beside Edinburgh, to capture an unbelievable shot of the city of Edinburgh, the River Forth and much of the surrounding countryside and townships.
5. Universities in Scotland
Universities in Scotland offer over 4,500 courses in more than 150 programs at both undergraduate and postgraduate levels. Scottish universities generally allow for a flexible degree structure with many options for dual degrees.
Scotland is home to five universities in the global top 250 (Times Higher Education Guide 2022) with institutions such as the University of St Andrews, University of Glasgow and University of Edinburgh famous for their academic excellence and is home to two members of the prestigious Russell Group.
From technology and gaming to history, teaching, medicine and nursing, there is a degree for everyone at a university in Scotland.
There is also a diversity in the types of universities in Scotland, from ancient universities such as the Universities of Aberdeen, St Andrews and Edinburgh to more modern universities such as Strathclyde University and the American Campus-style University of Stirling.
Apply to study in Scotland
For international students wishing to study away from home, there are few more picturesque parts of the world to do so than Scotland.
The process to study in Scotland as a North American student is no different from the application to study anywhere else in the UK, undergraduate applicants will apply through UCAS and the majority of Scottish universities will accept postgraduate applicants directly through their own application system (this could be paper or online).
Arrange a free consultation today to get your application started to a Scottish university.